Sliding scale for presale | $32 at Door $1.33 per ticket processing fee
Friday, October 13 | 6-9pm | Pack Square Park, Asheville
Dear StarTriber,
The therapeutic power of dance under the open sky has been treasured for millennia.

So here we go with the Fall StarTribe Dance right in downtown Asheville!
Essentials:
Doors open at 5:30pm.
Rain or shine, it's on!
StarTribe dances are drug and alcohol free.
Bring your own water, and prepare to sweat.
For children ten and under, please bring sound protective ear muffs and keep them with you at all times - hooray for safety for the little StarTribers!
Bio:
Liquid Bloom

Liquid Bloom is a collaborative music project spearheaded by Amani Friend of Desert Dwellers, dedicated to the fusion of world music and electronic elements. With a focus on creating immersive and transformative sonic experiences, Liquid Bloom aims to bridge traditional and modern music, bringing together sounds and rhythms from around the globe to create a unique and captivating sound.

Since its inception, Liquid Bloom has worked with a diverse range of musicians and producers, including Poranguí, Deya Dova, and Mose, to name a few. Together they have created a rich tapestry of sound that blends organic instrumentation with electronic beats and melodies. Liquid Bloom has garnered a devoted following and earned a reputation for transporting audiences to far-off lands and otherworldly realms.

At the heart of Liquid Bloom is Amani's passion for world music and his belief in the power of sound to heal and inspire. Drawing upon his own deep spiritual practice and years of experience as a producer, Amani crafts each Liquid Bloom track with intention and mindfulness, infusing each one with a sense of magic and wonder.

Illusion of Duality

Bridging the gap between electronic and organic, he has been on an ever evolving musical journey to truly discover his sound. Born & raised on the west coast playing strings, percussion & keys Illusion of Duality honed his craft on the decks far before electronic music was popular in the early 2000's. This alchemical artist uses frequency embedded in a universe of rhythm to navigate between the Darkness & the Light.

Many moons of living the nomadic lifestyle have revealed a multitude of music from distant lands. On the dance floor Illusion of Duality's worldly sound will guide you on an adventure of downtempo bass, tribal house and breaks sure to lead you "home". Beyond the good or the evil, to a place where we are all ONE.

Elan DeHaro

William "Elan" DeHaro is a musician, composer and multi-instrumentalist, who journeyed into music with travels across Europe and the Americas. Elan's transportive style takes listeners on a voyage with evocative tones, eclectic sound and inspiring melodies. His music weaves together a tapestry of European, Middle Eastern, Spanish, Oriental and Gypsy styles.

Jahidi Galactic Tabla Activation

Jahidi is a musician and sound healer based in Asheville, North Carolina. A former attorney, Jahidi left his legal career to follow the calling of the drums, founding Drumming for Wellness, Inc. in 2007 and speaking as a TEDx speaker at TEDxMiami in 2013. As an accomplished drummer and tabla player, Jahidi has accompanied world class artists such as Deva Premal, Anoushka Shankar and Jowee Omicil. He is also the creator of a sound healing method called Rhythmic Resonance Healing. Jahidi's mission is to empower, heal and unify people through rhythm and sound.
4 reasons it would be nuts to miss the last StarTribe dance of 2023:
For the very first time Liquid Bloom is playing LIVE on the most badass sound system, at the coolest venue in the southeast... for sliding scale entry!
Dance with your tribe is unrivaled therapy for the mind, body, and spirit.
Dance in the outdoors, the StarTribe way, is an empowering & life-enriching experience.
aaaand...StarTribe is a community of the nicest people.
The StarTribe Vision
For thousands of years, countless cultures all over the world have danced for the purpose of community and self improvement, making dance of this kind an invaluable part of life.

The StarTribe ecstatic dance experience, with musicians like Liquid Bloom, fulfill a community passion for dance under open sky. We believe that dance within this energetic container is among the most life-enriching things we can do. Collective purpose and passion for life is the essence of StarTribe, and you are warmly invited.


StarTribe is a 501c3 non-profit dedicated to community transformation on the dance floor.
Stay tuned
for upcoming events
Enter email address: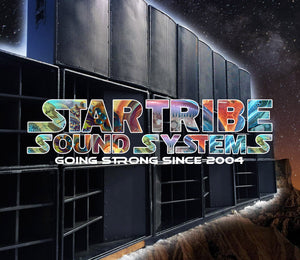 Did you know the StarTribe sound system is available for rent?
StarTribe Pro Sound specializes in high-end sound system rentals and sales for all sizes of festivals, concerts, touring events, conventions, and weddings.
Choose StarTribe Pro Sound for rentals and sales, and you'll be getting the very best sound and for an affordable rate. The robust StarTribe sound system is suitable for all events that have an attendance of up to 3000.
Bottom line – we're providing what it takes to make you and your crowd happy. Ultimately this is our passion.
Learn More